I don't like Facebook. That's no secret. Problem is... if you want to see and be seen, you practically NEED to be on Facebook. I find it quite annoying. I also find all of their settings/options/functionality very annoying. Nothing is simple or straight forward. At all.
Enter Google.
It's still WAY too early to tell... but they may have something very cool on their hands. And if you're lucky enough to get in at this point (as I was yesterday), it's quite fun poking around and trying things out. Google+ (Google Plus) it's called. And it has a lot of potential.
So the basic idea is the same as Facebook. You have friends (in Circles). You update your status (the Stream). You can share photos, videos, links... all that fun stuff. But there's just something different about it. I can't quite... put... my... finger...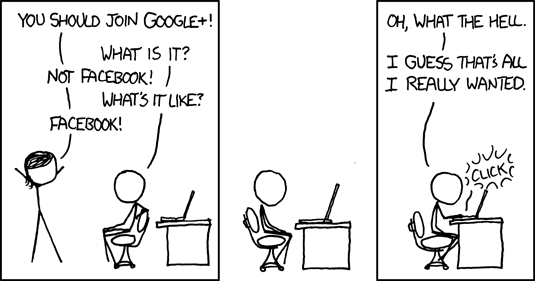 Oh, ya... that's right. Sure, there are tons of other reasons I prefer it. Love the Circles idea. Interface is super clean. Hangout is awesome. Etc, etc, etc.
Not liking Facebook for many reasons probably means I'm already biased. Plus, I'm already a big fan of most Google services. This just seems to fit in very well with my interests... so far anyway. Time will really tell.
Thing is, it's still VERY limited and VERY new. Earlier this week there were actual invites for people to send out. When those ran out there was another way to "invite" people by sharing something with a person's Gmail address. And even that seems to no longer work. No clue when people will be able to invite others again, but here's to hoping it's soon!
NOTE: I DO NOT HAVE INVITES. IF YOU REPLY TO THIS WITH YOUR EMAIL AND REQUEST AN INVITE, I WILL SIGN YOU UP FOR AS MUCH GARBAGE AND CRAP AS I CAN POSSIBLY FIND. YOU HAVE BEEN WARNED!
Some possibly related posts...